.... when I get married.... LOL! LOL!
I would want to wear a dress that might look a lil similar to this one,
But no, I said SIMILAR; coz I won't be wearing anything so sexy during that day.. :)
Kalau ikut angan angan Mat Jenin, macam best je dapat pakai French lace. Lol.
Or this one down here, I love the skirt. But the top might be less sexy.
And I wish to have lacy sleeves...
And for the tiara, I might need something that look similar to this;
Or this;

Or ,... this one.. I kinda like it better;
Wedding band for Mr Husband (the title which I truly wish to go to my current boyfie :) ;
Kalau ada rezeki lebih, belikan dia platinum la. Wakakaka.
And for mine, (angan angan je okay.. Bergantung kepada financial si teman hidup) ;

I love to have something different, and not so common actually. It's not at all a matter whether or not it's Cartier's or whatever. Lol. But for a wedding, you know..... And honestly, I've always loved Cartier's and Bvlgari's jewelleries.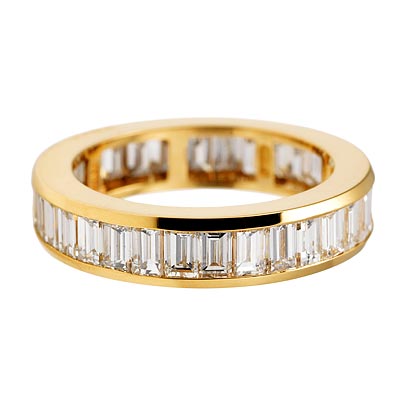 Just you look at this picture above. How can you not adore the emerald cut diamonds! That's Bvlgari's.

Or.......
The well known classic Tiffany's

Oh oh.. Enough of the wedding bands!! Rambang mata, seriously!

Okay, as for baju songket Melayu and all tuh.. memang for sure ada la! But cari2, tak banyak yang berkenan di hati. Lagipun, wedding dress memang ada varieties, senang nak cari gambar nya while baju songket tu susah nak cari similar dengan yang dalam kepala saya. Lol. So, rasa nya saya suka warna silver. Dan kalau ada jodoh dengan Adam, dia tuh hitam manis, so dia tak suka kot striking colors. So, better go for safe colors kan. Ahahaha. Sayangku jangan marah, hitam manis kamu lah yang menawan hatiku. Eceh. Pft.
Okay btw, all those pics up there are the results of my boredom.
But honestly, I was smiling all the way through browsing them. Lol.
Why don't you girls try to do what I did when u're bored. Who knows, u might be smiling away too.
And anyways, those are my wedding wish list, or to be precise- a dream.
Usually, things that people dream of will be those exquisite ones kan.. Kalau betul betul, tak ada la mengharapkan sangat Bvlgari, Tiffany tuh semua. Like I said, depends on the husband's financial lah.